Chocolate Chip Cookies

Ingredients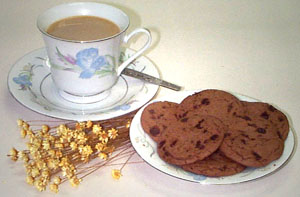 | | |
| --- | --- |
| Ingredient | Quantity |
| Low protein flour (Green Ferry brand) | 250g |
| Cocoa powder | 15g |
| Salt | ½ tsp |
| Cinnamon powder | 1 pinch |
| Butter | 125g |
| Granulated powder | 100g |
| Brown sugar | 100g |
| Vanilla essence | 1 tsp |
| Lightly beaten egg | 1 |
| Chocolate chips | 125g |
| Chopped walnut | 60g |
Method
1/ Preheat oven to 180 C and lightly grease two to four baking trays.
2/ Sift together the flour, cocoa powder, salt and cinnamon powder.
3/ Cream the butter, sugar, brown sugar and vanilla essence. Gradually add in the egg, beating well.
4/ Mix the sifted ingredients, then add the chocolate chips and walnuts. Mix well. Shape teaspoonfuls of the mixture into small balls and place on prepared trays.
5/ Bake for 15-20 minutes.
---
[ Home | Introduction of Company | Product Information | Services | Contacts | On-line Order ]